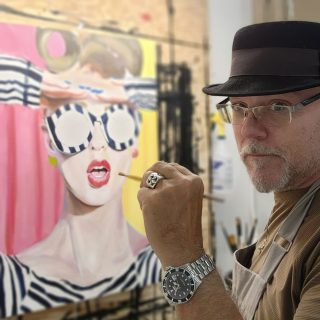 Greg Creason
Born and raised in Flint, Michigan, Greg discovered that he had a talent for art at age 11. He would put on his headphones and draw for hours each day and accredits Norman Rockwell as one of his inspirations. He would often duplicate his works as a young boy.
Greg's mother and father were very supportive of his skill for illustration, encouraging him to pursue a career in art. After high school, Greg attended Kendall College of Art & Design of Ferris State University in Grand Rapids, Michigan and earned a Bachelor of Fine Arts degree in Illustration in 1990.
In 1992, Greg moved to San Jose, California and eventually made his home in Monterey, California for twenty years, having owned and operated a small gallery on Cannery Row. During that time, he became the first apprentice of world-renowned artist Thomas Kinkade. He worked for Kinkade's Media Arts Group for twelve years before taking a sabbatical from the art world for over five years.
Greg moved from Monterey, California to New Orleans, Louisiana in 2009 where he garnered tremendous inspiration from the lifestyle there and opened his flagship gallery there, exclusively selling his own work.
In August of 2020, he opened a second gallery in Carmel-by-the-Sea, Calfornia fulfilling a dream of having a gallery in California. Then in June of 2021, he opened his third gallery in Naples, Florida.
Greg's artwork is displayed in many homes and businesses throughout the world. In 2018, he was commissioned by the Dauphine Orleans Hotel to create seven pieces of artwork for their newly renovated bar and dining room. He has commissioned pieces in several hotels and restaurants and furnished the American Cruise Lines Mississippi River ships with artwork and sculptures. He is currently working on furnishing their ninth ship which launched in April 2023.
Greg continues his artistic journey with enthusiasm and passion, which is clearly present in each and every piece he creates.
Artist Statement
As a child and into adulthood, my experiences with women, particularly my mother, have helped inform and mold my work to this day. Understanding woman, observing them and how to approach them still baffles and inspires me. Experiencing the death of my father at 18, it was the women in my life who influenced me and connected me to the human experience.
Over the years my style has ranged from abstract to photo realism and much exploration in between.
Meeting my second wife was a turning point, as she taught me how to treat and honor women and become an even better person. Her unwavering support has been instrumental in my journey as a man and artist.
All my experiences with women—my mother, my wife, friends and clients— allows me to see women through literally rose-colored glass (and many other colors). Whether it be my Hat, Bubble Gum, Daze (sunglasses) or Once Upon A Time in New Orleans series, my current acrylic, glass and resin work has inspired thousands to see women as a true source of beauty and creativity in our world.
I am grateful to my mother, father, wife, and countless others who have supported and guided me throughout my journey. Without them, I would not have been able to overcome my challenges, take the risk, and achieve the success I have today.