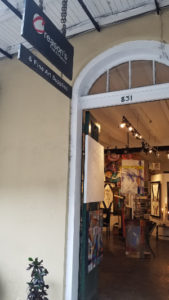 Located in the heart of the French Quarter at 831 Chartres Street, Creason's Fine Art showcases the works of local and emerging artists. The gallery space houses revolving original fine art pieces and sculptures.
With its exceptional display of contemporary original artwork, Creason's Fine Art Gallery captivates both young and seasoned collectors. We are dedicated to providing fine art for the home, office, and corporate display that is not atypical New Orleans. You can "Make it Personal" by commissioning any of our artists to create artwork to your specifications and desire.
Seasoned art collectors, first time buyers and art lovers are welcome to visit our modern gallery a few steps from Jackson Square.
Greg Creason
Greg moved from Monterey, CA to New Orleans, LA in 2009 where he has found tremendous inspiration in the lifestyle of New Orleans. As an experienced and classically trained artist, each piece he creates tells a story and represents what emotions Greg was experiencing at the point in time when the piece was created. As the owner and one of the artists in the gallery, he is honored to have the opportunity of providing his customers the best offerings of artwork available in the French Quarter.