Harry Mayronne is a New Orleans native and French Quarter legend in the making. Harry is the son of artists (and great-grandson of British music hall pianist/impressionist Gerald Mount) and spent a large part of his youth surrounded by the artists and musicians that were friends and colleagues of his parents.  Known as a musician and composer, Harry Mayronne has appeared with Nina Hagen at Berliner Ensemble. At a very young age, he became enamored with marionettes and created his first marionette at the age of 8. He has performed with his marionettes at various venues in New Orleans as well as on the television show, Steppin' Out. In October of 2017, he was invited to perform with his marionettes at Club Cumming, the New York City club co-owned by actor Alan Cumming.
He is also composer/co-producer of Waiting Around—the Restaurant Musical, written along with Ricky Graham. The show had an off-Broadway run in 2006. As a Pianist/Musical Director Harry has played in many New Orleans venues, National Arts Club, Symphony Space, and most recently, Club Cumming in NYC, the Greenbrier, and Bar Jeder Vernunft in Berlin. He can be seen giving Big Freedia a German lesson in episode S4E6 of the show Big Freedia—Queen of Bounce.
We are honored to represent Harry and his marionettes at Creason's Fine Art Gallery. Currently available for sale are "Dr. John", "Edith Piaf', "Leonard Bernstein", "Mae West", and several others. He can also create a marionette personalized as a commission for someone special in your life. There is no better way to immortalize someone you love than with a custom marionette made by Harry Mayronne. For information on availability or a special commissions, please call or email the gallery!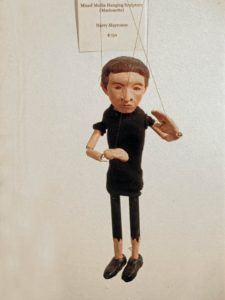 Proust Orchid Marionette (Hanging Sculpture) $3500